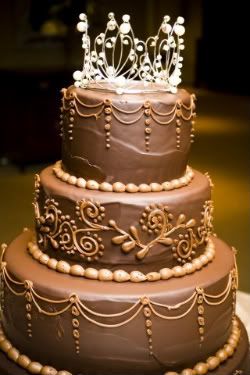 This is how it all got started. This evilly fabulous image was Ken and my wedding cake. Butter recipe yellow cake with chcolate moose between the layers and topped with chocolate ganache. YES, it was as fabulous as it looked. And Thus began the weight gain.
As I have said before, this Barbie's jeans have been steadily shrinking since last April. I LOVE chocolate and since getting married I have eaten more chocolate and exercised less. I found the Operation Skinny Bitch blog the other day and decided to hop on board. Not only is this for my health and on behalf of my over stretched clothes but also the fact that PR Barbie is getting married in May and Weight Lifter Barbie (another girl friend from college. Who married English Ken (ex-serious relationship just before meeting Ken)'s younger brother in November will most likely be in attendance.)) Not that I am in competition with Weight Lifter Barbie, trust me, I could not keep up with her. But NO self respecting Barbie attends a wedding not looking her best and sending a lovely message to the ex "EAT YOUR HEART OUT, BUD! Smooches and wish you all the best." No I don't hate the ex, nor do I not know that I am better off with Construction Ken. I just, need that small victory, for me that's all. Silly I know.
Ok so Day one of OSB!!!! Bring it! I can do this! So, hopped onto the scale this morning and…………Survey says…..ding, ding, ding
157.8.
OMG!!! Its just a number and in fact it would be no big deal if I had not gained this over the course of 9 months without there being a little person involved. You see, I did not go on a diet before my wedding; I just took it at what it was and went with it. But, love handles have popped out and I definitely have some chub to get rid of. Other than the weigh in, the first order of business was to get cracking on the exercise. Woke up, froze my bum off taking the uppies for a walk. The Uppies are all too happy to be a part of OSB. Once back at home 20 jumping jacks and 3 reps of ten on the ad lounger before hopping in the shower. 20 more jumping jacks while in robe. My mission today is to add exercise back into my life so it becomes a normal part of my day, drink more water, and eat less chocolate. I won't give up chocolate all together, because let's be honest……Ken would not want to know me off chocolate and why set yourself up to fail to begin with. I'll eat one Dove Dark Chocolate Promise a day. Besides dark chocolate is good for you. Its like taking your vitamins. So there!!! I'll keep you posted on how I do. Feel free to join the ban wagon as well.