Not only is this one of my favorite songs by Fuel, but it completely describes my day today. Yes, the Barbie likes Fuel. NUF said. Work woes have me some what down today, but I refuse to give into the dis pare completely. The best medicine for a bad day............
WINE
It is in fact 3:00 pm so no need to do the "It's five o'clock somewhere". And for those of you Nye Sayers who might bring up the negatives of drinking while you are feeling bummed......I'm Catholic! It's a right of passage. We have wine with the good, the bad and the ugly. Plus, I'm part Irish, hello!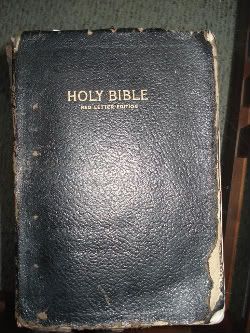 GOD
Ok, so God should be first, but we're somewhat going in the order I am doing things. And God and I talked as I poured the wine, so there. This is the only bible I own. I love that it is so well worn, but it means more than that. This was presented to my great grandfather (the Irish one) by my great grandmother on Christmas 1970. They were some of my favorite people growing up and praying with this bible is like having them with me when I feel alone. There are bits of paper from their life together and I always seem to come across exactly what I need to hear at the time I need to hear it. My great grandpa was also a writer. Not sure if he wrote this, but it was from a newspaper clipping. Today I found this "WHEN YOU REMEMBER ME" dated 1954. It was stuck in the Book of Samuel chapter 5 - "When you remember me think of....the hours filled with laughter...the kisses warm with kindness...and the magic things thereafter...when you remember me recall ...the good things I did...the shortcomings I used to have..should be forever hid...when you remember me, ponder ...upon the smiles we shared..the moment filled with understanding..showing how we cared..when you remember me look to..the summer's golden glow...the spell of spring and autumn..and winter's ice and snow...think of these things when I am gone.. and I am sure you'll see...the happiness of bygone days...when you remember me."
CHOCOLATE
I am sure no explanation is need for this one. Chocolate is the answer to a bad day. But, in true operation skinny bitch fashion, I only had four pieces. Plus, it REALLY brought out the wine.
RECALL HAPPIER DAYS
This was one of the happiest days of my life. Marrying Ken. It was one of those moments when I knew I was exactly where I was supposed to be in life. It all could not have been more perfect. Most days, I feel so completely blessed having Ken in my life. He can be so wonderful.
(Disclaimer: pms tends to make the Barbie overly emotional. Add to that wine and some chocolate and we have an all out Barbie pity party. It is good that this little event is occurring while Ken is at work. Please tune in next time when the Barbie has a sunny disposition.)
Today's Song is, of course, Bad Day by Fuel